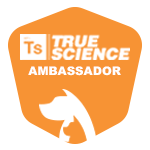 As a True Science ambassador, I will be introducing you to new pet products every month.   If you missed my first post last month, it was on Pet Action Plus flea medication, and Betsy Farms Chicken Jerky treats.
This month, I will be telling you about Minties Dental Treats and Hip & Joint chews from VETIQ.
As you can see, Molly was deliriously happy with this month's shipment.
She was less than happy when I told her she had to share it all with her other five siblings.
And in typical Molly fashion, she wouldn't wait for me to open them, she immediately tried chewing on the bag to get to her Minties!
We received two different sizes of Minties.  One contained 22 Tiny Minties, and the other contained 10 Small Minties. You can see the difference in size between them.  Three of our dogs are in the 3-9 lb size, and three are in the 10-19 lb size. Ok, so technically Molly is actually 21 lbs, but she's still a Chihuahua so the Small size is just fine for her.
Minties are great for their dental health, and since it's not easy to physically brush their teeth daily, I like to give them treats that are good for cleaning their teeth.  And usually treats that are good for their teeth take them longer to eat, and that's another big plus.  I am all for treats that keep them occupied for a while.   Especially when Molly will chew on anything in sight. So we need things to keep her jaws busy.
I know Minties have been around for a while, but here's a few things about them that you might not have known:
They are all made in the USA, and all ingredients are sourced from the USA!
They are wheat, corn, soy and gluten free!
There are no artificial flavors or animal by-products.
They clean your dog's teeth with their unique shape and texture.
Thy help reduce plaque & tartar.
Not sure where you can buy these? Find out where you can buy them here.
Our dogs LOVE Minties, and I'm sure yours will too!
The other treat we got to review are Hip & Joint chews.  These are also made & sourced in the USA.  They support cartilage, joints and muscle.  They are wheat free and chicken flavored.
They are for all dog sizes and ages.  A couple of our really finicky dogs wouldn't eat these until I broke them up into smaller pieces, and then they did.
If you're  not sure where you can purchase these, click here to find out where you can.