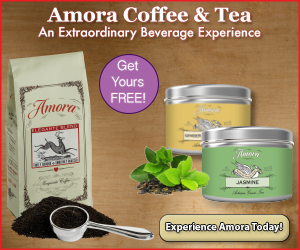 I'm not a coffee drinker, but Chris is, so I took advantage of this coffee deal for him, and he loved this gourmet coffee!   Get the coffee, tea OR BOTH for just $1 shipping!
Get Amora Coffee or Tea or Both FREE!
Experience the fresh taste of Amora Coffee, or Tea, or Both FREE! Just pay $1 towards shipping.
Amora delivers an extraordinarily fresh Coffee and Tea experience in every cup right to your home.  Now in eight delicious varieties, our coffees are roasted in small batches by fifth-generation Master Roasters in the USA. Our teas are freshly selected from the finest estates and organic farms around the world.